Welcome and Thank-you for visiting the home of Rugerlane.
MOWGLI     
GCH MBIS Rugerlane's Legend of the Jungle CGN, HIC
Canada's Top Bulldog for 2019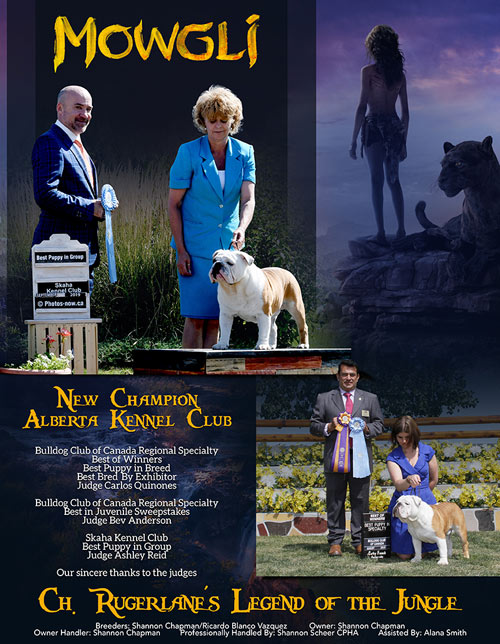 ORION
(most award winning Bulldog in Canadian History)
AM GCHEX MBIS IROC Stargazing at Rugerlane CGN, TT, HIC   
Canada's Top Bulldog for 2017 & 2018 
#6 Allbreed in Canada for 2018 with 17 BIS & 19 RBIS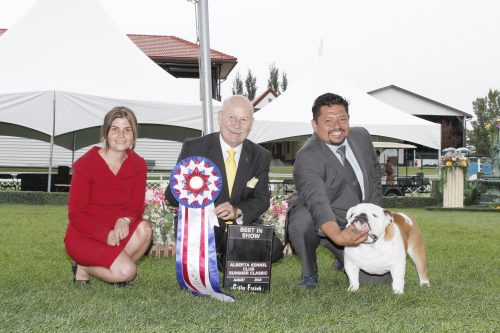 We are small home based hobby breeder located in Southern Alberta. The name RUGERLANE is a combination of two special dogs in our lives one that is still with us today " TULANE" and our Rottweiler "RUGER" who unfortunately left us back in 2016. We have only been in Bulldogs for approximately 9 years but my love for dogs and all animals started when I was a young child and my dad brought me home my first dog a rough collie appropriately named "Lassie".
I think it's really important to show how versatile Bulldogs are so I spend a lot of time doing many activities with my fur kids from Confirmation, Rally, Agility, herding, Scent Detection you name it and we will give it a try. I always encourage people to do your research and make sure that Bulldogs are the right dog for your family and lifestyle. I feel they do come with their own set of unique needs and I would consider them a little more high maintenance than other breeds but I couldn't imagine my world without one of them in it.
I always tell people your life is not complete until you spend it with a Bulldog their personalities and clown like behavior is what makes it hard to not own just one. I hope you spend a bit of time on our website and if you have any questions please drop me a line I'm always up for talking about Bulldogs
Video courtesy of Elizabeth Hugo.